The Illestrater Interview, Damien Hirst, Sorare & More
🎙️ Illestrater's Journey to Becoming a Top NFT Collector
By founding the Sevens Foundation charity, Illestrater (aka Tim Kang) evolved from a top-tier NFT collector into a champion of nascent artistry.
In our latest podcast episode, Illestrater discusses how the Sevens Genesis Grants have helped new artists overcome cost barriers to minting their first NFTs. He also shares his thoughts on the current NFT market, collector DAOs, working with Paris Hilton and what she did correctly as a celebrity looking to credibly enter the NFT space.
Be sure to hit subscribe and watch the full episode here.
🧑‍🎨 Damien Hirst Makes NFT Debut
My new artwork 'The Currency' is now open for applications at
Heni.com
. 10,000 NFTs that correspond to 10,000 unique physical artworks. You have to decide which one you want, you can't have both! I have no idea what's gonna happen!!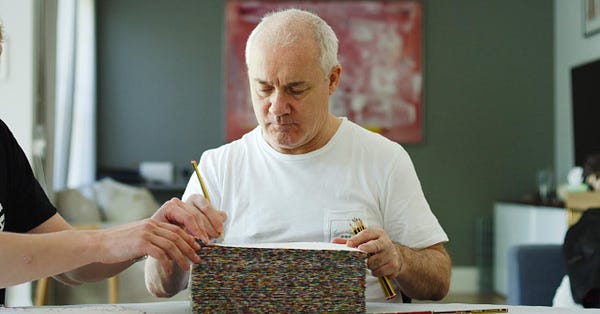 Damien Hirst - The Currency
The Currency, the first NFT series by Damien Hirst, will be launched by HENI on 14 July 2021 at 3pm BST on heni.comThe Currency is a collection of 10,000 NFT...
youtube.com
As the richest living artist and a regular lightning bolt for controversy, Damien Hirst's entry to the NFT space was always going to be polarizing.
The British artist caused a stir this week by announcing "The Currency," a series of 10,000 NFTs of unique dot paintings priced at $2,000 each that will be available on HENI using Palm's ecosystem. Each NFT corresponds with a physical artwork signed, authenticated, and titled from machine learning using Hirst's favorite song lyrics.
Following distribution, collectors will have one year to choose between keeping the NFT or exchanging it for the physical artwork. Whichever version is not chosen will be destroyed. Hirst envisions the project as a grand experiment that "challenges the concept of value through money and art" and collectors' "perception of value, and how it influences their decision."
Given his history of challenging the traditional art world's power structures, Hirst's attraction to NFTs should come as no surprise. In 2008, he auctioned off $200 million of art directly through Sotheby's, enraging the establishment by circumventing dealers and galleries. However, his well-documented practice of outsourcing his art's creation would also appear to be at odds with the NFT community's DIY ethos.
Hirst's new collection has met with a predictably mixed reaction. Some called the project's price point a "cash grab," while others took issue with the project's burn mechanics being positioned as novel. However, others welcomed the artist's arrival to and questioned whether a medium-native artist would receive the same scrutiny.
What are your thoughts on Hirst's drop? Let us know in the comments.
⚽ Sorare Reportedly Closing in on Historic Raise
Soccer NFT platform Sorare is reportedly close to raising $532 million in funding that could raise its valuation to $3.8 billion. According to Business Insider, that sum would rank as the largest fundraise ever for France's technology sector. However, Sorare CEO Nicolas Julia has reportedly denied that the raise is taking place.
Japanese investment giant Softbank is said to be leading the round, with Atomico taking part and Sequoia Capital engaging the Paris-based company in talks. Sorare most recently raised a $50 million Series A round in February, counting star footballers like Gerard Piqué and Antoine Griezmann in as investors.
💥 Quick Hits
This newsletter is purely for educational purposes and is not financial advice or a solicitation to buy or sell any assets or to make any investment decisions. Please do your own research!